Clients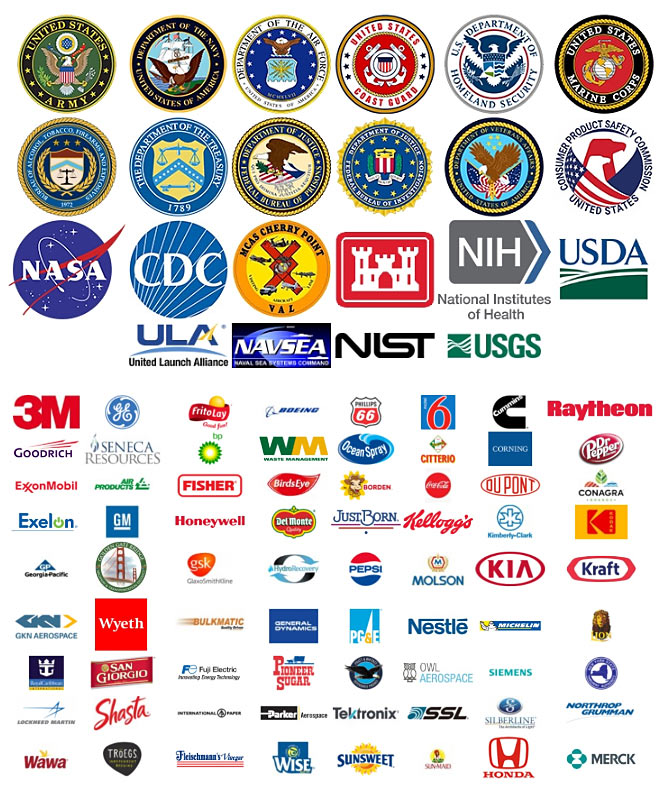 This is a partial list of some of our valued and satisfied clients who have decided to use our repair or calibration services. For process or analytical laboratory instrumentation repairs, or NIST traceable calibration, you can be assured that your equipment will receive the most professional care and attention.
Adler Planetarium
Adventist University
Albright College
Alleghany County Schools
Anne Arundel Community College
Arizona St. Univ. West
Ashland University
Augustana College
Augustana University
Aquinas College
Baldwin Wallace University
Baton Rouge Community College
Bethel College
Bethlehem Central School District
Birmingham Southern Coll.
Black Hawk College
Blinn College
Blue Mt. School Dist.
Blue Ridge Governor's School
Boston Univ. Ped. Dentisty
Bradley University
Brecksville-Broadview Hts. HS
Brighton High School
Bristol Community Coll.
Brooklyn College
Bryn Mawr College
Bucknell University
Bucks Co. Comm. Coll.
Calvin College
Canyon High School
Carroll University
Catholic University of America
Cedar Crest College
Cedar Grove High School
Centerville City Schools
Central Columbia SD
Central Dauphin SD
Central State Univ.
Centre College
Charles County Public Schools
Clemson University
College of Dupage
Colorado Mesa University
Columbia Montour AVTS
Community College of Baltimore County
Community College of Philadelphia
Community Colleges of Spokane
Cornell University
Dalton College
Danville High School
Darien High School
Daytona State College
Delta State University
DeSales University
Desert Comm. College District
Drexel Univ. College of Medicine
Duke University
East Stroudsburg University
Eastern Illinois University
Eckerd College
Edinboro Uinv. Of Pennsylvania
Edmonds Community College
Fairfield-Suisun Unified School District
Farmington Public Schools
Federal Way Public Schools
Felician College
Florida College
Florida State College Jacksonville
Florida State University
Flowing Wells High School
Front Range Community College
Frontier Regional School District
George Washington Univ. Med.
Gilmore Academy
Glenbrook South Highschool
Golden West College
Grand Rapids Community College
Harding University
Harrisburg Community College
Hayward Community SD
Hillsdale College
Holy Names High School
Hornell City School District
Howard University
IDA Crown Jewish Acadamy
Indiana University of PA
International School of Prague
Ithaca College Laboratory
Iowa State Univ.
Ivy Tech Community College
J. Sterling Morton HS
Jim Thorpe Elementary School
Joel Barlow HS
Johns Hopkins University/HHMI
Kansas State University
Keck School of Medicine, USC
Kent Island High School
Kittatinny Regional HS
La Lumiere School
La Mesa Spring Valley School District
Lafayette College
Lake Lehman SD
Lehigh Carbon Comm. Coll.
Lehigh University
Long Island University
Lousiana State University
Lovington High School
Lower Columbia College
Luzerne Co. Comm. Coll.
Maharishi School
Marian School District
Marist College
Maritime College of New York
Marshal University
Mary Washington College
Mercer Co. Comm. College
Mercy College
Meredith College
Mexico 59 School District
Michigan State University
Milford Board of Education
Misericordia University
MIT Lincoln
Monroe Carreer and Technical Institute
Monsignor McHugh HS
Moravian College
Morehead State University
Mount Saint Mary's University
Moutain View School District
Muhlenberg College
NJ Institute of Technology
NM Institute of Mining Tech.
New Paltz HS
Newtown High School
Norfolk Collegiate School
North Montco Tech. Career Center
Northeast Bradford School District
Northeastern University
Northern Arizona University
Northern New Mexico College
Northland College
Northwest Nazarene University
Northwestern College
Nova Southeastern University
Oakland University
Ohio Dominican University
Ohio State University
Ohio University
Orange County Schools
Ore City Independent School District
Oregon Science and Health University
Owen J. Roberts School District
Packer Collegiate Institute
Park University
Paul VI HS
Penn Cambria HS
Penn State University
Penn Valley Community College
Pensacola Junior College
Peralta Community College District
Peters Township HS
Pikes Peak Community College
Pleasant Valley SD
Poquoson High School
Prince George's Community College
Providence St. Mel School
Medtech College
Merritt College
Middle Tennessee State University
New Jersey Institute of Technology
Roane State Comm. College
Roanoke College
Rogers State University
Rosalind Franklin Unv Med.
Rowan University
Rush University
Rutgers University
Saint Ambrose University
Saint Ann's School
Saint Martin's University
Saint Petersburg College
Saint Peter's University
San Bernadino Comm. College
Sayer HS
School of the Osage
Siren SD
Seminole State College
Seton Hall University
Shenandoah University
Sherrill City SD
Somerset Hills SD
Southeast Missouri State Univ.
Southern Adventist University
Southern Lehigh HS
Southern SD
Southern Utah University
Southwestern Michigan College
Spring Valley HS
St. Bonaventure University
St. Mary's University
St. Peter's College
Stonington Public Schools
Stroudburg Area SD
Stuyvesant HS
Suffolk County Community College
Temple Univ. – Neuroscience
Texas Tech University
The College at Brockport
The Kings Academy
The Ohio State University
The Penn. State University
The Stony Brook School
The University of Akron
The University of Iowa
UC Berkeley ESPM
UCLA
UCLA Biomarker Innov. Lab.
UCSF
UICE Dept. of Biology
UHM Brookside
Univ. of Alabama – Huntsville
Univ. of Arizona
Univ. of California San Diego
Univ. of Charleston
Univ. of Chicago
Univ. of Colorado – Colo. Sprs.
Univ. of Connecticut
Univ. of Delaware
Univ. of Hawaii
Univ. of Idaho
Univ. of Illinois at Urbana
Univ. of Louisiana-Lafayette
Univ. of Mary Washington
Univ. of Minnesota
Univ. of Missouri – Columbia
Univ. of Montana
Univ. of Nebraska – Kearney
Univ. of New Orleans
Univ. of North Carolina
Univ. of Northwestern St. Paul
Univ. of Pennsylvania
Univ. of South Alabama
Univ. of South Florida
Univ. of St. Joseph
Univ. of Tennessee
Univ. of Texas Medical Branch
Univ. of Toledo
Univ. of Wisconsin – Madison
Univ. of Wyoming
Upper Perkiomen HS
Utah Valley University
Vestavia Hills HS
Villanova Univ.
Virginia Beach City Public Sch.
Virginia Tech
Walton HS
Warren Wilson College
Warrior Run SD
West Valley College
Westchester Comm. College
Western Illinois University
Western Wayne SD
Westminster College
West Virginia University
Wilkes University
Yale University
Alcohol, Tobacco & Trade
Bellefonte Fish Hatchery
Beltzville State Park
Centers for Disease Control (CDC)
Cherry Point USMC
Clinton County Rest Area
Coal Township SCI
Commonwealth of PA
Conservation Biology Division
Dallas SCI
DCNR Frances Slocum SP
DCNR Hickory Run SP
DCNR Ricketts Glen SP
DCNR Tuscarora SP
DEP Rausch Creek AMD TP
Dept. of Commerce -NIST
Dept. of Natural Res. – Michigan
Dept. of Verteran's Affairs
Dept. of Water Environmental Protection
Dept. of Water – Syracuse
FBI Lab
Frackville SCI
Geneva High School
Geological Survey – Alabama
Glenn Research Center
Golden Gate Bridge – HTD
Hines VA Hospital
Jefferson County – Alabama
Lackawanna State Park
Lehigh County Housing Authority
NASA Glenn Res. Ctr.
NASA Langley Res. Ctr.
NASA Stennis Space Ctr.
Nat'l Inst. of Enivro. – Bethesda
National Institutes of Health (NIH)
Nat'l Inst. of Standards & Tech.
Naval Facility Eng. Cmnd
Naval Res. Lab. – Wash. DC
Naval Sea Sys. Cmnd
Naval Support-Indian Head MD
NY State Thruway Auth
NIH
Otisville FCI
PA Dept. of Natural Resources
PA Dept. of Water Environment Protection
PENN DOT – Columbia
PENN DOT – Crystal Springs
PENN DOT – Harrisburg
PENN DOT – Mill Hall
PA DEP
PA Fish & Boat Commission
Pike County Corrections
Promised Land State Park
Red River Army Depot
Travis AFB
United States Coast Guard
United States Treasury
US Army ATC
US Dept of Agriculture
US Bureau of Reclamation
USCG – VA
USCG – Sherman
USDA – AR
USPFO for CT
US Property & Fiscal Office
White Haven Center
3M Company
3M Corporation
4-M Construction Services, LLC
A & L Western Laboratories, Inc
ABB
AbSci, LLC
Accurate Metal Finishing
Ace Automatic Sprinkler
Acetylene Oxygen Co.
Acinterlab
Acupac Packaging, Inc.
Adamar Enterprises
ADM Milling Co.
Advanced Biotech
Advanced Chemistry Labs, Inc.
Afton Chemical
Air Liquide
Air Products & Chemicals
Air Quality Research
Airforce One
Airline Hydraulics Corporation
AK Steel
Alevo
Alin Foundation
Alliance Group
Alliance Landfill
Allied Electronics, Inc
Allied Industrial Supply, Inc
Altex Technologies
American Air Filter
American Dental Association
American Environmental Testing
American Glass Research
American Trim
Ameritek Inc.
Ametek Process Instruments
AMPAL, Inc.
Analysts, Inc.
Analytical Laboratories
Anchor Mobile Estates
Angiotech
APC, Inc.
Apex Omni Graphics
Apple and Eve
Apple Inc.
Applied Coatings, Inc.
Applied Ecoscience
Applied Sciences, Inc.
Appropriate Engineering
AQR
Aquamaster Irrigation
Aquatherm Industries
Aqua Water, Sayre
Arko Labs
Aryzta
AS Sprinkler
Asher's Chocolates
Astral Diagnostics, Inc.
Atlas Biologicals
Atlas Industrial Supply
Atlas Material Testing and Technology LLC
ATS
Attostar LLC
Aurora Plastic and Hand Surgery PC
Automated Control Systems, Inc.
Automation Controls, Inc.
Autoneum
Avatar
Aventure Aviation
Avocet Environmental Testing
BAE Systems
Basic American Inc.
Bay Composites, Inc.
Bayer Material Science
BD Diagnostic Systems
BE Crowley
Becketwood Cooperative
Beckmar Environmenal Laboratory
Bell & Evans
Benchmark EnviroAnalytical, Inc
Benner Spring Fish Hatchery
Bet Shemesh Engines LTD
Bethesda Hospital East
Bill Godfrey Company
Bio Pharm, Inc.
Bio-Medical & Pharmaceutical Manf. Corp.
Bioflag Therapeutics
Birds Eye Foods
Bisco Industries
Blaschak Coal Corp.
Blue Knight Energy Partners
Blue Pacific Flavors
Boeing Commerical Airplane
Borden Dairy – Conroe Plant
Boreal Aviation
Borregaard Lignotech
Boston Scientific Corp.
Boulder Mountain Lodge
BP Products
Brian Sams Company
Bridesburg Foundry
Brookdale Resort
Brookmont Healthcare Center LLC
Brownfly Commerical
Brushy Creek Custom Sires
Buccella Wines
Buckeye Corp.
Bulk Chemicals Inc.
Bulkmatic Inc.
Butter Krust Baking
Burrus Wine Consulting
BYIS Manufacturing, LLC
BYK USA
Cahaba Veneer
CAL – ED Optical
Caliber Sales Engineering, Inc.
California Dairies
Calvert Labs
Calvex Company
Camelback Mountain Resort
Camp Herbron
Camp Lavi
Camp Penn Susquehanna Conference
Camp Starlight, Inc.
Camp Towanda
Canaan Bible Chapel
CANLINESTECH
Cao Dat Tae Co.
Capital Area Christian Church
Capstone Energy
Cardinal FG Company
Carleton Energy Consulting
Carroll Company
Cascade Fusion Smoked Olive Oil
CB Solutions
CDC – NCIRD
Centrifuges Unlimited, Inc.
Centurion Poultry Inc.
Challenge Mfg.
Champion Genetics Inc.
Champion Technologies
Cheribundi
Cherokee Pharmaceuticals LLC
CherryPharm
Chesterman Co.
Chicago Anodizing Company
Choctaw-Kaul Distribution Company
Circuit Connect
Citterio USA
CKS Packaging
Clean Treatment
Clement Pappas & Co.
Clemente Associates
Cleveland Brothers Equipment
Cliffstar Corporation LLC
Clover Farms
CMC Custom Milling
Coastal Calibration Laboratories, Inc.
Coca Cola USA Fountain
Coherent
Colgate Oral Pharmaceutical
Comverge
ConAgra Foods, Inc. EBS AP
Conoco Phillips
Consumer Products Safety Commission
Copperhead Chemicals
Corning Inc.
Cott Beverages/Cliffstar LLC
Cove Haven Resorts
Covered Wagon
CPM Labs
CraftMaster Manufacturing Inc
Cronan Creative Solutions
Crop Production Services
Cross Link Powder Coating
Crossroads Beverage Group LLC
CTDI
Cryovac Sealed Air Corp.
CSC Sugar
Cummins Crosspoint, LLC
Cummins Turbo Technologies
Dauphin Meadows Landfill
D & B Breweries
Data Wills Company
David Grahame Company
DDB Watsontown, LP
Dekker Vacuum Technologies, Inc.
Del Monte Corp.
Del Rio Vineyards & Winery
Delia Commander
DeMet's Candy Company
Dempsey Uniform
Destileria Carupano (Venezuela)
Detroit Edison
Diamond Drinks, Inc.
Diamond Foods
Digital-Ink
Dirty Business Soil Consulting & Analysis
Diversified Service Contracting Inc.
Dixie Industries, Inc.
Don Otte Electric
Dow Advanced Materials
Dr. Pepper Snapple Group
DRS Sensors & Targeting Systems,Inc
Dry Creek Lab.
DSET Laboratories
Ducommun Co.
DuPont Spruance Plant
DXP Enterprises
Dynegy Generation
Dyneon LLC
Eagle Ridge Personal Home Care
East Coast Shipping Supply
East Penn Mfg.
Eastern Technologies, Inc.
Eastman Chemical Co.
Eastman Kodak
eBioscience, Inc.
ECKART America Corporation
Ecology III Inc.
Ed Bartelli Inc.
Edgewood by Sand Springs
Elcon Inc.
Elcon Technologies, Inc.
Electrofiber Technologies
Elementis Chromium LP
Elk Meadows
Elk Mountain Ski Resort
Elyx Scientific
EMD Millipore
Emerald Materials
Emergent Biosolutions, Inc.
Emerging Fuels Technology
Emerson Process Management
EMI Export
Endicott Interconnect Industries
Energy Transfer Fuels
Energy USA
Environmental Services & Equipment Co.
Enzyme Development Corp.
Esam Supply
Esco Optics
ESG Laboratories
ESK LLC
Etna Products
Eureka Resources
Evonik CYRO LLC
Excel Engineering
Excelso Coffee & Tea
Exelon Corp.
Excide Technologies
Express Sales, Inc.
Exxon Mobil
Eye Catching Solutions
Fabric Development
Fairmount Homes
Farmers Pride, Inc.
Fastenal
FCX
FedChem
Federal Mobile
Ferryboat Campsite Inc.
FIAS Consultants
Field Fire Protection
Filmtech, Inc.
Fire Pro Inc
Fire Equipment Company
Fire Tech Sprinkler
Fisher Controls
Fishing Creek Estates
Flakeboard MDF
Fleischmann's Vinegar
Flight Support Inc.
Flint Group
Florida's Natural Growers
Flotec Inc.
Flow Control Systems
Fox Chase Cancer Center
Franzosa Trucking
Frederick Mennonite Community
Freedom Plastic LLC
Fres-Co
Frito-Lay Inc.
Frontier Pharmaceutical, Inc.
Frontier Techni-Kote
Frost Wells & Pumps, Inc.
Fuellgraf Electric Company
Fuji Electric Corp of America
Full Spectrum Analytics
Galco Industrial Electronics, Inc
Gannett Fleming Engineers
Garden State Scientific
Garnerville Holding Company
Garnett Whitehurst Company
GCO Labs
GCR, Inc.
GDF SUEZ Energy Generation
Geisinger Medical Crt/Danville
Geisinger Med. Crt/Wilkes Barre
Gellner and Company
General Chemical Corp.
General Dynamics
General Electric
General Motors
General Motors Assembly Plant
General Motors Powertrain
Genesee Fire Protection, Inc.
Geological Survey of Alabama
Georg Fischer Harvel LLC
Georgia Pacific Co.
Ghiringhelli Specialty Foods
Gilberton Power
Giorgi Mushroom
GKN Aerospace, Inc.
GlaxoSmithKline
Gleason Clay Co. LLC
Glen Oak Country Club
Glencrest Realty
Global Advance Metals
Global Titanium Inc.
Glustitch
GM McCrossin, Inc.
GMI Inc.
Golden Gate Ferry
Goodrich Corp.
Grace Mudi Co.
Graftel, LLC
Greensun Products
Greer Engine Services
Greiner Bio-One North America
Greystone Benton
Grouse Hunt Farms
Growers Mineral Solutions
Guardian Elder Care
H & K Materials
H & H Electric
H & M Sales and Service, Inc.
Hach Company
Hagemeyer North America
Haggard Stocking
Haines & Kibblehouse
Hall Environmental Service
Hamlet Protein
Hamlin Center LP-MCB Properties Management
Harrow Station, LLC
Harry Freeman Company
Hart Metals
Has-Mor Industries
Hawk Mountain Labs
Hays Kansas Water Plant
Hayward Laboratories
Hazen and Sawyer
Hazle Compounding
Hazleton Creek Properties
Hazleton Shaft Corp.
Hazleton Site Contractors
Heath Oil, Inc.
Heislers Cloverleaf Dairy Inc.
Henry Molded Products
Hercules Poly Corp.
Hickory Hills MHP
Hidden Valley Mfg.
Highground Sevices, Inc.
Highwood USA LLC
Hillock Anodizing, Inc.
Historic Salem Village
HiTechTrader.com
Hoffinger Industries, Inc.
Holigraphix LLC
Honeywell Aerospace
Honeywell FM&T
Honeywell International
Honeywell Resins & Chemicals LLC
Honeywell Technology Solutions
Horiba Instruments
Horizons Incorporated
Horsepower Electric
HRI Inc
Huntington Life Science
HV Manufacturing Co.
Hydac Technology Corp.
Hydradyne Hydraulics, LLC
Hydration Technology Innovations
Hydro Recovery LP
Hy-Tek Material Handling
IBT
Iberdrola Renewables
ICC Instruments Company
Idex Health and Science
Image Data
Imaging Systems Group
Imara Corp.
IMERYS Mineral
IMI, Inc.
Immuno Diagnostics Systems
INAT
Industrial Control Solutions
Industrial Motion, Inc.
Industrial Power Systems
Industrial Rewinding Inc.
Industrial Systems
Inland Pacific Controls
Inline Plastics Corp.
Integra Technology
Integrated Breeding Services
Integrated Test Corp.
International AG Labs
International Equipment Trading LTD
International Packaging
International Paper
International Products
International Rectifier Corp.
International Solar Electric Tech. Inc.
Intralytix, Inc.
Intranasal Corporation
Intrapac Corporation
IPG Photonics Corp.
Ironwood Generation Station
Irvine Instruments, LLC
Ives Equipment Corp.
IXYS Corp.
J. A. Reinhardt & Co.
J. Thomas Electrical
Jack Frost Big Boulder Ski Lodge
Jackson Plating Company
Jai Mai Inc.
James Bonham dba Bonham's Nursury
Jasper Engineering Equipment
JBI Corporation
JBM Associates
Jeddo Coal
JEM Heating & Cooling
JMF Underground
JM Grain Inc.
John Hopkins Enterprise
Johns Manville Co.
Johnson Controls Inc
Johnson's Home for the Aged
Joseph Sanders Company
JP America
Julia Ribauldo
Just Born
JWK International, Inc.
Kalil Bottling Co.
KAMAN Industrial Technologies
Kason Industries
Keelersville Club
Keeshan & Bost Chemical Co.
Kellog Company
Kennecott Utah Cooper
Kepner Scott Shoe
Keseifert Company
Kettle Creek Enterprises
Keysight Technologies, Inc.
Keystone Automotive Industries
Keystone Engineering
Keystone Job Corps.
Keystone Mobile Homes
Keystone Water Testing Lab.
KIA Motors
Kids Peace
Kiewit Pacific Co.
Kimberly-Clark Corp
Kinder Morgan Bulk Terminals
Kinetix Fire
Kings River Mobile Home Park & Campsite
Kirby Memorial Health Center
Klang
Kline Cabinet Markers
Klune Precision Coatings
Knoll Inc.
Kohler Freda LLC
Koperna Mining Corp
Koppers Inc.
Kraft Food
Kreisler Industrials Corp.
Kusumitha Perera
Kylee Hedges
Laco Woodworks
Lake Adventures
Lake Engineering, Inc.
Lakeview Speciality Produce
LaMotte Company
Land O Lakes
Larkin Center
Lassonde Pappas & Company
LB&B Associates
Lebanon Valley Mobile Home Community
Leclerc Foods USA
Lee's Oriental Gourmet Foods
Leggett & Platt
Lehigh Valley Zoological Society
Lehigh Anthracite Coal LLC
Lehigh Valley Technologies
Leiby's Dairy, Inc.
Lewistown Hospital
LexaMed
LFM/Utilities/Enviro. QAE
LGS Microscope
Lhoist North America
Liberty Mobile Home Park
Lil Wolf Mobile Home Park
Linh Quang Buddhist Temple
Link-Belt
Liquid Light, Inc.
Liquiforce Services USA
Lockheed Martin
Lockheed Martin Space Sys. Co.
Lone Wolf Solutions
Longhua Limited
Lori Pfoutz Company
Los Alamos National Labs
Louis Sandel Noel
Loyd Martin
Ludlum Measurements, Inc.
Lutsen Mountains Inc.
Lutheran Hospital of Indiana
LUU Marine
Lycoming County Recreation
Lycoming County Resource Management Services
Lyophilization Technology
Magnesium-Elektron USA
Magnet Inc.
Mag-Tech Inc.
Mahoning Valley Nursing and Rehab. Ctr.
Maid Rite Speciality Foods
Majestic Fire Apparel, Inc.
Malt Products Corporation
Mammoth Anthracite LLC
Mangla & Pravin Patel
Maple Lane Estates
Maplewood Meats
Marin Water
Marine Offshore Supply
Mars Foods
Martin Water Lab.
Martinsville Memorial Hospital
Mary-D Community Association
Maryhill Winery
Maryland Precision Spring
Mass Industrial Controls
Master Foods
Master Water
Masy Systems Inc.
Maxim
Maxim Automations, Inc.
Maxwell Technologies
MB Research
MBD Wheel and Brake Repair Services
MBL Bion
MC Systems
Mcdonnell Douglas/Boeing Co.
McNab Ridge Winery
MD Enterprises
Mead Westvaco
MechTronics Controls
Medone Surgical
Melanie Manor Mobile Home Estates
Merck & Co.
Merial Select, Inc.
Mermet Corporation
Merrimac Associates
Mervac Plumbing & Heating
Metal Surface Tecnologies
Metcal
Metropolitan Transit Authority
Mettalurgical Products Co.
MetTech
Mia Products
Micheal Siy Company
Michelin Co.
Michigan Sugar Company
Micro Optics
Microbac
Microbac of Scranton
Micrographics
MicroMod Automations & Controls
Mid Atlantic Circuits, Inc.
Midwest USA LLC
Miller Environmental Inc.
Miller Skyview Sales Inc.
Milligan & Higgins
Milliken – King America Longleaf Plant
Milner Milling, Inc.
Mil-Spec Painting Inc.
MiraVista Diagnostics, LLC
Miss-Lou Electric
Molson Brewery
Monroe #1 BOCES
Montage Mountain
Monteforte Enterprises
Morgan Advanced Ceramics
Morgan AM&T
Morton Manufacturing
Motel 6
Motion Industries, Inc – AL
Motion Industries, Inc – TX
Motion – Tronix
Moutainview Thoroughbred Racing Association
Mt. Airy Casino Resort
Mt. Springs Camping Resort
Mt. Vernon Winnelson
Mt. View Reclamation
Muggs County Kitchen & Sandy Beach Motel
Multi-Plastics Extrusions, Inc.
N.P. New Castle
Nalco Champion
Nalco Company
Nali Onwunali
National Electrical Carbon
National General Supply
National Grange Mutal
National Renewable Energy Lab.
Naveen Singh Co.
NAVFAC S/W
NAVSEA Keyport
NBYT Hazleton
NBYT Naples
NCAH Calibration Labs
NCE – Crawford – Emcotek
Nelcar International Inc.
Nestles St. Joseph
Netvia Group
New England Fertilizer Co.
New Hampshire Electric Motors
New Life Youth & Family Services
New Mexico Occupational Health & Safety Bureau
New York Wire
Newark Electronics Customer
NGC Industries
NGM Insurance
Nicholas Wolff Foundation, Inc.
Nissan Chemical Houston
Nitta Casings
Nittany Enginering
Norman Brenteson ARM, CHCM
Northeast Metrology Inc.
Northeastern Enviromental Labs
Northeastern Power Co.
Northrop Grumman
Northside Heights Estates
Northwest Fisheries Science Center
Northwest Sanitary Landfill
Nova Biomedical
Novasep
Novipax
Nutri-Pea Limited
NYC Environmental Protection
O.T. Trans Inc.
Oak Park and River Forest
Oak Ridge Personal Home Care
Oil City Chemical
Olam SVI
Old Hickory Clay Co.
Oldcastle Precast
Oldfield Cellars LLC
Omega BioChem Lab.
Omnova Solution
Oneok-Transportation
Optera
Ordway Reasearch Institute, Inc.
Oregon Electric Group
Orscheln
OSM Food Specialties
OSU Center for Microbial Interface Biology
Overton Chicago Gear
Owl Aerospace, Inc.
Oxidor Laboratories, LLC
P&L Industrial Burner
PA Utility Company
Pacific Fishing Co. Limited
Pacific Gas & Electric Co.
Pacific Industrial Corp.
Pacific Industrial, Inc.
Pacific Northwest National Lab.
Packall Packing
PANDUIT Co.
Panther Creek Energy
Papettis Hygrade Egg Products
Para-Chem
Paradise Stream
Parker Aerospace
Parker Hannifin Corp – NY
Parkland School Dist.
Peel Plastics
Peifer & Gross Inc.
Peninsula Plywood Group
Penn 80 Travel Center
Pepper Hills LTD
Pepsi America
Pepsi-Cola & National Brand Beverages Ltd.
Performance Contracting Group (PCG)
Petroleum Laboratories
Phillips 66
Phytogenx
Pilgrim Foods
Pilot Travel Centers, LLC
Pine Brook Bible Conf. Ctr.
Pine Grove Landfill
Pine Hills Country Club
Pine Manor
Pine Ridge Farms, LLC
Pine Valley Associates
Pinederosa Farm
Pioneer Controls
Pioneer Scale Co.
Plastic Tubeing Industry of Georgia
Plasticoid Co.
Pleasant Valley Manor
Ployplast
PME Automation
Pocono Manor Investors
Pocono Plateau
Pocono Rabbit Farm
Pocono Waterworks Company, Inc.
Pohli, Inc.
Polaris
Polarized Meat Co.
Polychem
Polyfil Corp.
Polyorganic Technologies
Polyplast
Pope Scientific, Inc.
Port Supply and Management Co.
Portionables Inc.
Pottsville Environmental Testing Laboratory
Powder Coating LLC
Power Plus
Power Source Repair Co. Inc.
Powdersize
PP Manufacturing Corp
PPL Einv
PPL Ironwood, LLC
PPL Susquehanna, LLC
Pratt Whitney Mts 290
Praxis Inc.
Precision Flow LLC
Precision Solutions, Inc.
Precision Valve
Preffered Meal Systems
Premier Heating & Cooling
Premium Composites
Premium Power Srvices
Presto CastingCo.
Pride Manufacturing Co.
Princeton Analytical Labs
PrintPack Inc.
Pritchett Controls, Inc.
Pro Trade Advance
Process Technologies
Procold Refrigerated Services, Inc.
Progenics Pharmaceuticals, Inc.
ProQuest
Prosser Laboratories
Pro-Tech Engineering Inc.
Protek Corp.
PSEG Power, LLC
PYCO Industries, Inc.
Pyrograf Products, Inc.
Pyrotek Inc.
Q.C. Services
Quad B Enterprises LLC
Quality Perforating Inc.
Quality Candy Co.
Quality Control Lab
Quality Service, Inc.
Quantum-Precision, Inc.
Quickstrip Co.
Quimby Equipment
Radon Medical Imaging
Railway Unloading Services
Rainbow Chemicals
Rainbow Electric Co.
Range Craft Mfg
Rawls Electrical
Rayco Mfg, Inc.
R-BIOPHARM
REP Enterprises
Richland Industrial Inc.
Richter Commissioning Group, LLC
Riggsby Companies, LLC
RSG Gorest Products
Rankin Biomedical Corp.
Raytheon
Raytheon TRSC A/P FFS
Reading Anthracite Coal
Reading Electric
Reeves Brothers, Inc.
Refinery Conversion Program
Rembrandt Foods
Rex Materials
Reynolds Packaging
RF Monolithics, Inc.
Rieter Automotive Systems
Ripon Cogeneration LLC
Rochdale Village Power Plant
Rohr, Inc.
Rotor Clip Co.
Royal Carribbean International
RSCC Wire & Cable, LLC
Rust Tech
SA Scientific Ltd.
Saber Healthcare Group
Sacred Heart Monastery
Saint Gobain Co
Salerno Properties
SALUT (Soil and Land Use Tech)
San Elijo Joint Powers Authority
Sandvik Material Tech NAFTA
Sanford Winery
Saputo Cheese
SARCSatellite Labs
Sathe Laboratory
Scaled Composites
Scaler Sales
Scarrott Metallurgical Co.
SCCMUA
Schaefer Interstate
Schneider Valley Farms
Schott North America, Inc.
Schuylkill Energy Resources Inc.
SDK Labs
Seewald Laboratories, Inc.
Seminis Vegetable Seeds Co.
Senter Technologies, LLC
Sethness Greenleaf Inc.
Severn Trent Environmental Services
SGS North America
Shasta Beverages, Miami
Sheppard T Powell Associates LLC
Shover Inv Group LLC
Siberline Mfg. Co
Siconnex Customized Solutions GmbH
Siemens Energy & Automation
Siemens Power Corp.
SierraPine Composite Solutions
Sigmund Cohn Corp.
Silberline Mfg. Co.
Silgan Closures
Simco Electronics
SimplexGrinnell
SLAC Nat'l Accelerator Lab.
Slate Belt Nursing and Rehab
Softrol Systems, Inc
Solleco Environmental Equip.
Soney Creek Refrigertion
Sooner Utilities, Inc.
South Bayside Systems Authority
South Coast Circuits, Inc.
South Point Industrial
Southern Allegheny – Shade Landfill
Southern Company
Southern Company
Southern Reasearch Institute
Southern Research Institute AL
Southern Tea, LLC
Southern Tea, LLC
SouthSide PWA
Southwest Service & Equipment Co.
Space Systems/Loral
Sparrow Hospital
Spectrolab
Spectrum Glass Co.
Spinks Clay Co.
SPIRIT AeroSystems, Inc.
St. Christopher's Childrens Hospital
St. Mary's County METCOM
St. Vincent Health
Staples
Stapleton Packing Co.
Stashluk Mechanical Contractors
Steller Microelectronics
Steritec, Inc.
Stone Garden
Storeroom Solutions, LLC
Stuyvesant High School
Suberizer, Inc
Sulzer Metco
Summer Hills Veterinary Hospital
Sun Rype
Suncoast Landing Systems
Sunland Chemical & Research Corp.
Sun-Maid Growers of CA
Sunrise Corp.
Sunsweet Growers Inc.
Superior Fabrication, Inc.
Superior Salt
Surface Chemists of Florida, Inc.
Surplus Recycling, Inc.
Survivor Fire
SVI Public Company Limited
Sweetener Supply Corp.
Synergy Flavors SG LLC
Systex Products
T & S Hardwoods Inc
T. Marzetti Co.
Taos Herb Co.
Target Import Warehouse
Tech Cast Inc.
Techevon LLC
Technical Solutions
Tektronix Inc.
TerrAqua Resource Management
Test Point Inc.
Texas Gas Transmission
Texas Gulf Sales Co. LTD
The American Gulf Co.
The Austonian
The Boeing Company
The Clothes Line
The Environmental Quality Company
The Furnace Source, LLC
The Valspar Corp.
Thermal One
Thermco Products
Thermo Depolymerization Process LLC
Thermo Fisher Scientific
Thermo Gauge Instruments
Thermo Metal Heat Treating
Thermogauge, Inc.
Thin Film Labs
Thomas Anaylytical
Thomas Lamination Co. Inc.
Thoratec Corp.
Three Mile Island
Tierra Inc.
Timberline Energy, LLC
TK Process Hawaii
TMD Friction Mexico S.A. de C.V.
TMV Systems Engineering
Tomasello Winery
Towanda Country Club
Trace Analytical Laboratories, Inc.
Transco Gas Pipeline
Tremblay Consulting
Tri State Insulation Co.
Triad Scientific, Inc.
Trident Electronics
Trijay Systems, Inc.
Trion Industries
Tri-Sate Baking
Tri-State Technical
Troegs Brewery
Tulsa Powder Coating
Turbo Mach, LLC
Turtle & Hughes, Inc.
Tyco Fire & Building Products
Tyler Memorial Hospital
U.S. Cosmetics Corp.
U.S. Zinc
UC Berkely
UGI Energy Services, Inc.
UGL-Unico
UMH
UMPQUA Research Company
UNAFLEX
Unimin Corporation
Union Lake Hotel
Unipro Unlimited, Inc.
United Equipment & Sales
United Launch Alliance LLC
United Resin Corp.
United Spring Technology Inc.
United States Bowling Congress
United Steel, Inc.
Universal Heat Treatment
Universal Optics Manufacturing Co.
Universal Technology Group
URS Energy & Construction, Inc.
US Bearing & Power Trans. Corp.
US Falcon, Inc.
US Filter
US Water LLC
Utah Plastics Group
Utility Line Services
V.A. Medical Center
Valin Corp
Valley County Health System
Valley Forge Group Ltd.
Valley Grown Nursery
Valley View Park
Valspar Corp.
Value Technology
Vanocur Refractories, LLC
Van Hoogenstyn Associates
Veltek Associates Inc.
Ventura International
Veolia Water
Vestavia Hills HS
Vibro-Acoustic Consultants
Viking Energy
Viking Sprinkler
Villa International Products, Inc.
Village of Four Seasons
Village of Fox Lake
Village of Laurel Run Health Care Facility
Village of Mountain Heights Inc.
VinylTech
Virginia Transformer Corp.
VWR International
Waddell Water Pump
Wanderland Trails Inc.
Warren Wilson College
Warrior Gas
Waste Management & Processors, Inc.
Waste Management Closed Site Management Group
Waste Management Moon
Waste Management Mt. View Reclamation
Waste Management. Phoenix Resources Landfill
Watchtower Bible & tract Society of New York, Inc.
Watermakers Air/Sampson Cay
Watt Control Systems, Inc.
Waukee Community School District
Wawa Dairy
Webb Furniture Enterprises, Inc.
Weis Markets
Wernersville Municipal Authority
Wespac Corp.
West Kentucky Community & Technical College
West Virginia University
Westech Instruments, Inc.
Western States Equipment
Western Suffolk
Weston & Sampson Services
Westvaco Texas Corpration
Whalen Contracting Co.
Wheelabrator Frackville
Whisenant & Lyle Water Services
Whispering Hollow
White Deer Run
White Haven Center
Wichita State University
Wieland Metals Inc.
Wilderness Technology
Williams Gas Pipes – Transco
Williams Generation
Williams Grove Associates
Williams Inc.
Williamsport Armed Forces Reserve Center
Wilpower Electric
Wilson Testing Labs
Wings Aviation Service
Wise Foods
Wise Industries
Wolf Lake Terminals, Inc.
Wolverine Advanced Materials
Woodward Iodine Corp.
Worthy Park Estate Ltd.
Worthy Park Rum (Jamaica)
Wright-Patterson AFB
WVSA
Wyeth Biopharma
Yuasa Battery
Yanuzzi Inc.
York Analytical Laboratories
Zerbe Sisters Nursing Center
Zygo Corp.