Services
Analytical & Lab Instruments Calibration & Repair
Moyer Instruments offers repair or calibration of all analytical laboratory instruments, including Spectrophotometers, (dual and single beam), Thermo Nanodrop repair for the Model 1000 and 2000, Perkin Elmer, Thermo Aquamate series,  Nicolet, Agilent, and Shimadzu  UV-VIS-NIR, FTIR, and AA. We repair and calibrate legacy instruments, such as the Foxboro Wilks Miran 1A IR line, Gier -Dunkle DB-100 Reflectometer, and other Scientific laboratory Instruments. Your instrumentation can be sent in for repair, or we can travel to your location. All calibrations to analytical or other instruments are traceable to NIST. Calibration labels, certificates, and datasheets are also available. We repair and calibrate all manufacturers' types, and we provide a fast turnaround. Every instrument receives individualized attention from the time we receive it, and we always keep in touch with you on its progress. We repair and calibrate 100's of spectrophotometers per year for many institutions and diverse industries. We perform all types of Scientific Equipment repair for autoclaves, CO2 incubators, gas and liquid chromatographs, balances, ovens, and freezers, etc. Please visit our Clients and Testimonials page.
Spectronic 20 Repair and Calibration

We have 49 years of experience in the Repair and Calibration of the Spectronic 20, 20D, 20+, 20D+, and the Genesys Series, including Models 10 & 20, Biomate, Aquamate, Miran 1A, etc., and, similar instruments. Each spectrophotometer is completely disassembled and inspected. Any degraded parts are replaced or updated. In addition to repairing the unit, we completely refurbish it. All instruments are subjected to our 44 Point Quality Control checkout procedure to ensure stability, reproducibility, and reliability. Every unit is checked for accuracy using NIST traceable filters and solutions.
Every repaired Spectronic 20 or Genesys 20 comes with an unconditional 1-Year WARRANTY, including the lamp.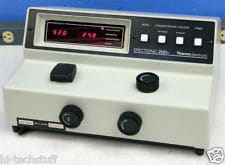 The Cost for the Repair, Calibration, and Refurbishment of a Spectronic 20, Analog or Digital, or Genesys 20 is $295.00
Turnaround time is 2-3 days.
Pack Carefully and Ship to the address at the bottom of the page.
Please include your contact info, shipping, and billing address.
Purchase Order can be sent with the unit or obtained after the Repair/Calibration.
"We recently sent you eight Spectronic 20 spectrophotometers that were badly in need of repair. They were received back yesterday. Your staff did a fantastic job. Our calls to check on the status were handled politely and professionally. Even the packaging for the return trip was done very carefully. The work was done perfectly, on time, and on budget. You guys are great! Thanks a million!"
– Martin L. Hage, Lecturer in Chemistry and Regulatory Affairs Officer, Northwestern College
For questions about the Spectronic 20 or any other Analytical or Laboratory Instruments, call 877-434-5377.
Spectronic® and Genesys® are Trademarks of Thermo Fisher Scientific
Aquamate® is a Trademark of Thermo Fisher Scientific
UV-VIS, NIR, FTIR, Spectrophotometer Repair & Calibration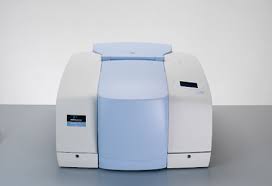 Moyer instruments has repaired and calibrated 1000's of spectrophotometers for many satisfied clients. Every instrument is given special care as it is repaired, calibrated, and tested. NIST traceability certificates are available.
We are able to repair all Manufacturers types of Spectrophotometers, UV-Vis, IR, FTIR, Single & Dual Beam, IR, and Diode Array.
Call us for Repair/Calibration, or Preventative Maintenance on Perkin-Elmer, Agilent, Shimadzu, Beckman,  or other manufacturers.
Below is a partial list of some of the manufacturers' instruments that we service.
| | | |
| --- | --- | --- |
| Perkin-Elmer Beckman Varian Shimadsu HP/Agilent Toshiba Hitachi Biotek Hach Unicam Sequoia LKB Flinn Millipore Nicolet | Bio-Rad Jasco ISA Thermo Persee GE Turner Hoefer Milton Roy Waters Pharmacia Biotech Fisher Scientific Ultrospec | Perkin- Elmer Varian Agilent Shimadzu Hitachi Cary |
"During this economic downturn, we all, educators, look for reliable and reasonably priced instruments for our teaching laboratory. Although his company was far away from Clemson University in SC, he has helped us tremendously. We purchased three Spectronic 20 spectrophotometers. They have done a fantastic job in answering questions, shipping, aftercare, and questions regarding future needs. They have never ignored my calls/emails. Jim and his crew have been extremely helpful. I look forward to purchasing other units in the near future."
–Yuji Arai, Ph.D. Clemson University
"We were in need of fixing our two Spectronic 20 spectrophotometers and after a few Google searches I run into Moyer Instruments. We were really lucky. The service was great, fast, and the price competitive. I would highly recommend the company to anyone in need to fix this type of equipment. I will for sure keep using the company for future repairs"
 -María Lara-Tejero, Yale University
Refurbished Spectronic 20's for Sale 
Analog Spectronic 20: $400.00
Digital Spectronic 20D or D+: $600.00
Genesys 20: $1050.00
These Instruments are completely refurbished, calibrated with NIST traceable filters, and come with a 1-Year WARRANTY.
You can visit our Online Store and order directly: https://moyerinstruments.com/shop/refurbished-spec-20-s-and-genesys-20-s/
For more information on unit repair and calibration, please contact us using our contact form or call our Hotline number 877-434-5377.
Moyer Instruments, Inc.
Attn: Repairs
45 Plaza Drive, Suite 500
Tamaqua PA 18252
Call: 877-434-5377